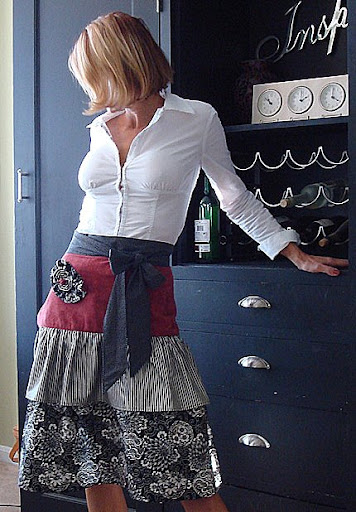 THC has closed for a few weeks for a break so if you want to sign up you can without visiting her store! Today entries close at 12 midnight. Good Luck.
On this bright and bouncy Monday morning, I am realizing we are getting closer and closer to Easter. It's time to start planning meals and egg coloring and and just how much chocolate we will bring into our house...
Regardless, we have a sweet treat for GIVEAWAY this week since
The Handmaiden's Cottage
has provided this beautiful layered apron for us to oogle over. This apron is called "The Sophisticated Lady," and is a one of a kind with such pretty layers that I think I would feel like I was wearing a special skirt not just an apron.
Lyn, owner of The Handmaiden's Cottage makes an incredible variety of aprons. Most of her aprons are single unique patterns with stylized details, but she will custom make previously sold aprons upon request. Whether flirty, retro, modern or sexy, you can find something you would love to wear in her store. In addition to aprons you can find
little girls aprons
,
mommy and me aprons
and baby items.
To enter the GIVEAWAY of the Sophisticated Lady apron, browse
The Handmaiden's Cottage
apron offerings and come back to make a comment on your favorite.
For five additional entries into the drawing, post about this giveaway on your blog and put the permalink to your site in your comment too.
And as always, if you want
10 bonus super entries
into the giveaway drawing, send in a photo of you or a family member in an apron. Include a mini apron story, what you like to cook, or some other tidbit about your photo in your email to me.
Entries close on Tuesday, April 14 at 12:00 midnight with the winner to be announced on Wednesday April 15th.
May the "gods" of random drawings be looking favorable on you for this one!