As some of you know, I have been struggling with keeping up with blogging as of late. Work, kids, life.... everyone has this issue. But I recently enlisted the help of another creative blogger to pick up a day a week here at The Apron Goddesses. I know she will breathe some fresh air into this site and keep our apron spirits floating.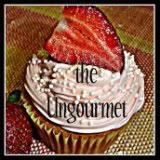 Time for the introduction of an Apron Goddess who some of you may already know... It's Kim at
The Ungourmet
! She hosts a spectacular foodie blog site with amazing recipes and beautiful accompanying photos. The deserts she makes are divine and all the foods she cooks make me drool. Seriously.
Kim has been a great friend of TAG from the early days and has great ideas to contribute to our community. I welcome her to TAG without reservation! She is a true Apron Goddess who's spirit glows from the inside out!
Thanks Kim for joining our ranks. I appreciate the help in this busy time.
Let's give her a rousting greeting and cheer!