Good Day Apron Goddesses!
Here's a picture of some aprons I found that scream Farah Fawcett (may she rest in peace) and Burt Reynolds from some crazy 70's movie that never made it to the big screen.
Not only are they men's wear, but they are really a form of chap with leg ties. And I thought chaps were only used by horse people!
Hmmm. I am not quite sure about the spoon and fork in the pocket of the man's "chap-ron" but I am thinking if he does any sudden movement he will fillet himself.
Then I am pondering the fact that these models legs are more than three times the length of their upper body. But they are sporting the boot cut, extra wide flair, so it must be OK.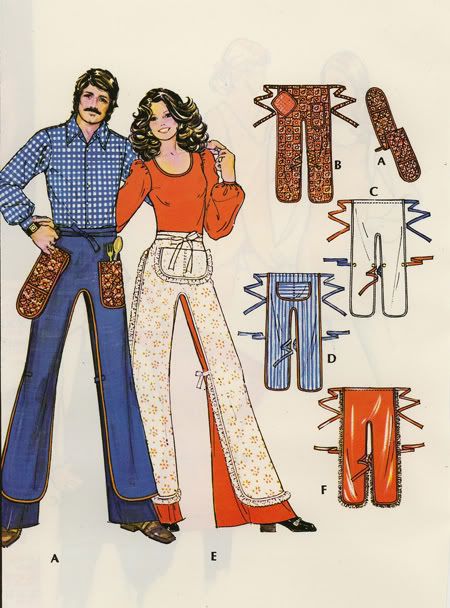 Did you figure out what the accessory labeled A is?
I think it is some kind of pot holder substituting as a side arm. I mean, it looks kind of gun-like to me. Maybe you can stash a sawed-off shot gun in that thing and if anybody gives you grief about the chap-pron you can cap 'em.
So, with the sun glinting off my feathered hair, I bid all you Apron Goddesses adieu!! What say you about these aprons? Am I a little too harsh with my critique of them?