Enter the current Giveaway from Dorothy's Aprons
Here.
It looks like they were pretty much messin' with women's body image back in the 50's as well as today. Apparently the impossibly small waste, larger upper body and disproportionately long leg was not a new invention through the use of the model "Twiggy." As I was born in the 70's I have only my personal experience with fashion trends to look back on. However, after looking at these patterns of womens aprons from the 50's I see that skinny body image indoctrination has been going on for a long, long, long time.
Left:
Ruffle-trimmed bib aprons in two styles; half apron too.
Advance 5884
size medium. From 1951.


Right:
Contrast fabric used to highlight shaping of hems and pockets.
Advance 5883
in size medium. From 1957.
While these images of women on the patterns are pretty, they are not realistic in any world I know. These impossibly small waists are what get me the most. I realize exaggeration occurs in fashion but really...
So I wanted to take a moment and celebrate some beautiful ladies showing off their aprons minus the artifice of fashion.
Here is
Simply Vintagegirl
wearing a home crafted creation.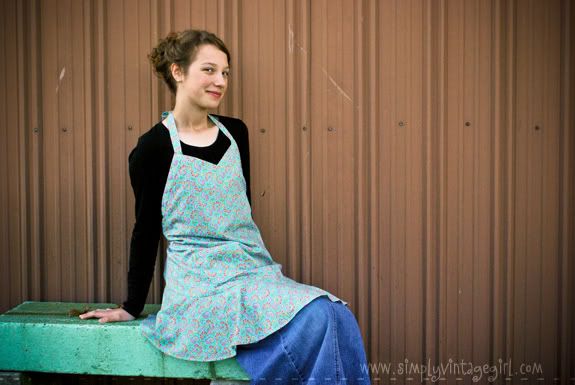 Then I found these awesome aprons from
Stitch Thru Time
where they make old fashioned retro aprons all made in the USA. They feature normal figured models in their beautifully styled adult and child sized aprons.
This picture was featured on
The Quilterhood
and shows a great mom and daughter set of aprons! Kid need to have positive images to model from and I think this one is great!
As always, if you would like to be featured on this site in your apron just send me an email with your picture and story. Plus get extra credit for any future drawing!