Good Morning Apron Goddesses!
I have something special to offer you for this giveaway . . . it's a gorgeous chefs coat made by
Crooked Brook!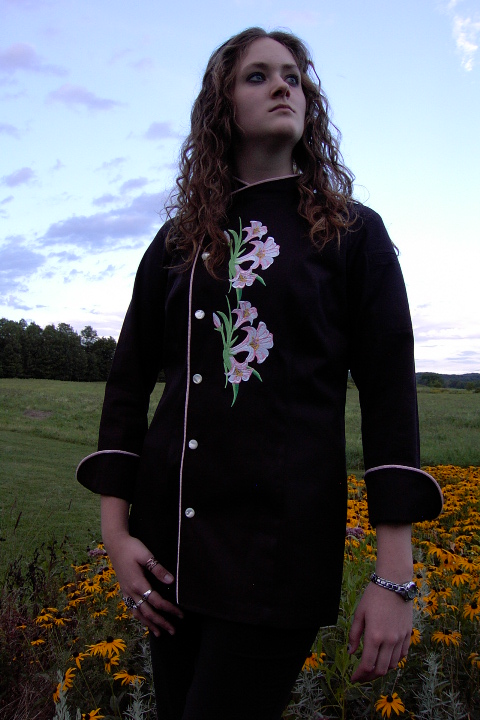 Crooked Brook specializes in custom kitchen apparel such as these chefs coats and aprons. They add embroidery to their creations to give them an extra touch of beauty.
This jacket
includes piping and Easter lily embroidery and the total value of this combination is a retail value of $238.00. The jacket for giveaway is a size 6 which corresponds to 34-26-36, so if this beauty would not fit you, win it and give it to someone you love! I think it would bring a huge smile to the face of the lucky woman who gets to wear it.
This is just one example of the fine workwomanship that can be found at the Crooked Brook store.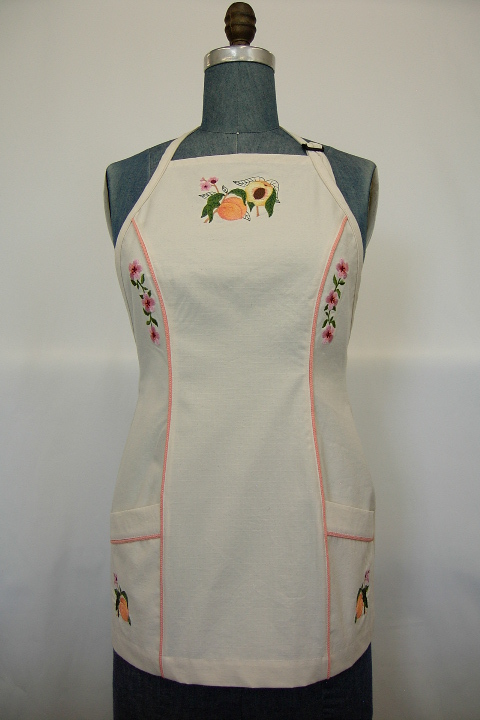 This bib style apron is another one of my favorites. The extra detail in the embroidery is wonderful! It has pockets and piping which are add-ons to the basic pattern.
Custom choices are the rule at Crooked Brook. Other options on all their aprons include applique or tacktwill (sewn on lettering).
Women's Bib Aprons are fitted bib aprons that are available in a full range of sizes, can be made in any length and in any of the fabrics offered. Worn at home in the kitchen for cooking, gardening or house-work. The Crooked Brook line of aprons is used by butchers, grocers, waitresses, female bartenders, servers, chefs, cooks, kitchen and counter workers.
Now onto the specifics about the giveaway for this week!
Visit
Crooked Brook
and browse the apron selections.
Come back here to TAG and make a comment about your favorite item. That will give you one entry into the giveaway.
For five extra entries into the drawing create a blog post about this giveaway, leaving your permalink in your comment. Be sure to mention this in your entry.
And for 10 extra, bonus chances at winning send in a picture of you or a family member wearing an apron and a few words about you and your apron. Give me the dirt! Leave a comment that you are sending in a photograph too! (Contact is above) No headless apron wearers please!! We will write up your "apron-ography" in the weeks to come.
Giveaway closes June 25, 2010.
Good Luck!